Tyvek Paper type Wristbands
Tyvek ( Paper Type ) is actually made of a synthetic plastic like material that is lightweight and comfortable to wear. Tyvek Paper type Wristbands are Non-Transferable, Stretch Resistant, Durable, Tamper-Proof, 100% Waterproof and ideal for single day use. Wide range of colors and patterns are available. All bands are sequentially numbered and can be fully customized . . .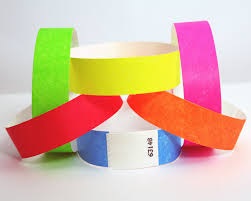 Custom Tyvek Paper type Wristbands
Tyvek Wristbands can be customized with your own special design or logo in any ink color of your choice, providing you with an innovative and highly visible way of delivering your message and identifying your patrons and guests . . . 

Barcode-wristbands